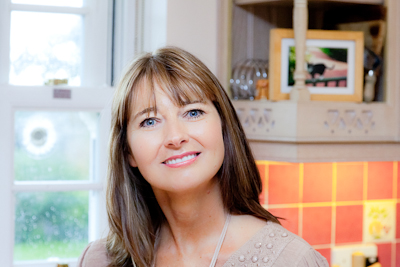 My name is Lynn, and like most of you who are reading this, I have had my fair share of problems to deal with in life, and perhaps that is why I feel so passionate about helping others overcome the difficulties and obstacles that can stand in the way of our health and happiness.
Throughout my childhood I witnessed my mother battling with depression and I felt her despair at a medical system that that seemed to offer no insight into the faulty thought patterns that had predisposed her to this condition. Later on, whilst training to be a Registered nurse at St Bartholomew's hospital in London, I again noticed that a patients treatment seemed to be focused on the diseased part, and no attention was given to the most important aspect of an individuals health and wellbeing; the thoughts, emotions and feelings that influence every aspect of our physiology, from our respiration rate, through to our ability to fight disease and ultimately, live our lives free from anxiety, fear and self loathing. I watched with curiosity the way some patients seemed to have a natural ability to maintain a positive outlook and see themselves as strong, healthy individuals. They required less medication and often recovered quickly, whereas other patients would be fearful, dwelling on their pain and helplessness. These individuals seemed to have a mindset that prolonged their recovery and sapped their energy.
I began to ask myself what made the difference to my patient's ability to cope, and if there was a way to help everyone learn how to tap into this ability to think, feel and act in a way that encourages happiness, health and wellbeing. The answer I am pleased to say was a resounding 'yes.'
I originally obtained a diploma in hypnotherapy in 1999, from the London College of Clinical Hypnotherapy, which was at the forefront of gaining medical recognition for the clinical use of hypnotherapy. I trained alongside Doctors and Dentists who understood how hypnotherapy could be incorporated into their daily work. I worked successfully as a hypnotherapist near my home in Brighton, before a change in my personal circumstances brought me to the beautiful village of Brent Knoll, where I now live with my husband and rather elderly cat! Following a longer than intended break from my practice, I made the decision to bring my skills and knowledge up to date by retraining with Adam Eason the world renowned cutting edge  therapist, trainer and author,  whose energy and expertise have inspired me enormously. One of the reasons I chose to study with Adam is that his training school is one of the few that offer the Hypnotherapy Practitioners Diploma – this qualification was recently introduced as a National Diploma, designed to meet the National Occupational Standards for Hypnotherapy. It is viewed to be the industry benchmark for professional hypnotherapists and is externally validated and accredited by the National Council for Hypnotherapy (NCH). I also gained a practioner diploma in NLP- Neuro-linguistic Programming, which taught me a range of very powerful techniques for helping to eradicate long-standing issues which have been having a negative effect on people's lives. I am a member of the NCH, and as such am bound by their Code of Conduct and Ethics.
I run my practice from the comfort and serenity of Southfields, my home in Brent Knoll. As well as helping people achieve their true potential, my other passion is travel. I have been lucky enough to fly all over the world as cabin crew for British Airways in a career that has spanned over 25 years. I find working as a hypnotherapist combines perfectly with my part time work flying. The short breaks I spend away from my practice and the everyday distractions of life at home, give me the space and time to construct well thought out individual treatment plans for my clients. This is something I feel a city therapist with an endless stream of clients may struggle with, and many rely on a 'one size fits all' strategy to cope with the limited time they have available. I am fortunate enough not to have to work under such limiting restrictions. Whilst I may not always be able to personally reply to a telephone enquiry immediately, rest assured, if you chose me as your therapist, the level of attention and commitment I will give to your care is second to none. My slightly irregular lifestyle also means that I am happy to see my clients when it is convenient for them, be that weekends, evenings or holidays.
I have been told I am warm, gentle, kind and empathetic. I take great pride in my work and huge satisfaction in helping my clients overcome their problems and achieve their goals. I know that seeking therapy can be a scary thing, but let me be your friend and show you that things can be different.