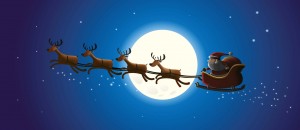 Is it some kind of sick joke that the biggest partying night of the year is preceded by the biggest blowout of the year? Do you fear that the dress you bought to see in the New Year won't even see its way over your hips? If so, don't worry, you can still indulge your taste buds this Christmas whilst ensuring that you don't end the year resembling a pudding.
Here at Lynn Ward Hypnotherapy I'm sensing a growing panic amongst my clients that the excesses of Christmas are going to wreak havoc on their waistlines, and some are already preparing for the worst by booking their weight loss sessions in for January!
Whilst I applaud their foresight and agree that the New Year is a fantastic opportunity to adopt a healthier lifestyle and get in shape, I don't believe that December deserves to be written off as a month of lethargy, gluttony and regret.
Now, I love a mince pie as much as the next woman, and I have no intention of suggesting 'diets' at any time of year, let alone at Christmas, but I do believe it is possible to enjoy a delicious and indulgent Christmas without ending up with a belly to rival Santa's! Follow my 5 simple tips below and you will not only enjoy the festivities more, you will look and feel amazing too!
1. Decide that Christmas starts on the 24th and finishes on the 26th. The office Christmas party may well have taken place on the third Saturday in November, and the tree went up shortly after bonfire night, but as far as the feasting goes, Christmas Eve is the only time to unwrap the Stilton and get the Yule log felled. If you start any earlier all those 'special' goodies lose their appeal, and by Boxing Day you will be so sick of over rich, calorie laden food that eating will be a chore! By then, however, the weeks of sugar induced highs and lows will leave you addicted to the carbs, and you will go on munching long after the tree has shed its needles.
2. Focus on quality not quantity. If you are going to treat yourself and your family to some delicious food, make it worth the calories. I know you can buy two jumbo tins of chocolates from the supermarket for a fiver, but spend that fiver on a dozen champagne truffles instead and savour each delicious morsel with reverence. Luxury food is only really enjoyed in moderation; scarcity is what drives the appeal. If Caviar were as cheap and prolific as baked beans would it be so highly prized? When it comes to enjoying Christmas fare, less is always more. If you have one mince pie rather than ten, it will taste ten times more delicious, that's a promise.
3. Have a little bit of everything you fancy. The Turkey dinner is a must, but most of us eat so much that we stagger from the table bloated and slightly nauseous – where is the fun in that? Imagine sitting down to Christmas dinner actually feeling hungry, so that you can appreciate all the different tastes and textures on your plate. Imagine savouring each mouthful, chewing it thoroughly so that you can enjoy every bite. Imagine leaving the table feeling pleasantly satisfied, not regretting one chipolata, and having the energy to go for a walk or play with kids. Imagine not having to open that top button and reach for the indigestion tablets. If you only eat when you are hungry, and stop when you are full, food is so much more delicious, and your body will reward you by feeling good, and staying trim and healthy.
4. Christmas holidays provide an ideal opportunity to get physical. Don't spend every minute in front of the T.V. – go for long walks or bike rides; have some active fun with the family playing video games that get you out of your seat! Make a gym membership your gift to yourself that will go on giving all year long. Physical exercise is the perfect antidote to all that post shopping stress, and it will boost your mood and your immunity, something we all need during the cold, dark months.
5. Only buy as much as you need, and trust me, you don't need nearly as much as you think. If you work on the premise that Christmas only lasts 3 days, and that contrary to popular belief the shops will open again, you will realise that one trolley load of perishables really is more than enough. Just in case you find yourself swept along  on the aisle of excess, make yourself a promise that any calorie laden 'Christmas' food that  is still around on the 27th will be disposed of! Give it to a charity, feed it to the dog, confine it to the bin, but don't eat it just because it's there. Better still, save yourself the money and the fridge space and don't buy in bulk to start with. Let your wallet bulge not your belly. Remember it's not a waste if it stays off your waist!
Let this Christmas be the start of a year when you start to really care about your body and what you feed it. Find out more about Weight Control
Have a wonderful Christmas!
Best wishes,
Lynn Ward